Faith Tabernacle Church Flash News
---

Ninth Edition March 18, 2018 -March 25, 2018
---
Vision of Faith Class has started. If you are a new member and want to learn the history behind this great ministry then this is the class for you. If you are a seasoned member and can't remember if you took this class then this is the class for you.  Then meet us at the Tab every Sunday Morning at 9:00 a.m. This class is taught by our very own Elder T. Woods.
---
Please join us Wednesday for Emotionally Healing church. Join us to witness this GREAT Move of the Lord as HE guides us by his Holy Spirit to overcome adversity and disbelief and trust in Him to a greater and better place.  This is a great opportunity to receive healing from past hurts or pains you may be suffering from as a result of a church hurt.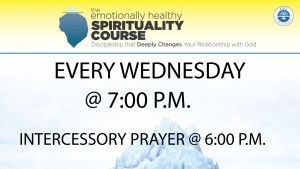 Saturday, March 24, 2018 at 8:00 a.m.– Mental Health First Aid Training. We will be offering Mental Health First Aid training at the church  on Saturday, March 24, 2018. 8:00 – 4:00 p.m. Contact Sis Elizabeth Patterson today(313-595-9318) if you are interested in receiving this training. Continental Breakfast and Lunch will be served. Open to All! See the attached information.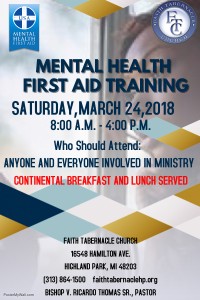 ---
 Our man of God is on assignment yet again. He will be bringing forth a word from God,  Sunday, March 25th at 10:00 a.m. at World Deliverance Temple for the 20th Anniversary!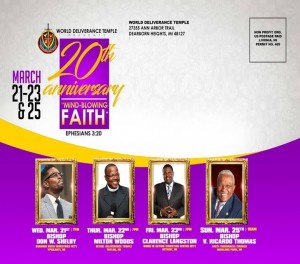 Remember we will be giving our First Fruit March 25th!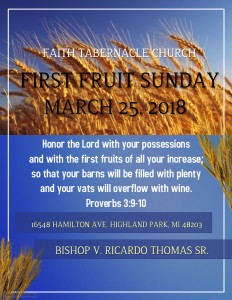 ---
In Future News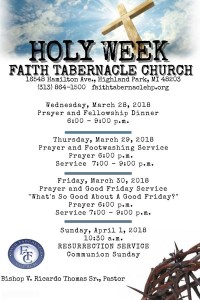 ---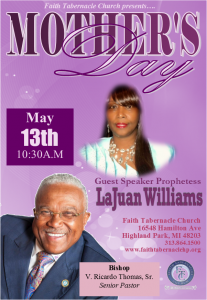 Children obey your parents in the Lord, for this is right. Honor your father and mother-which is the first commandment with a promise so that it may go well with you and that you may enjoy long life on the earth. Ephesians 6:1-3
CALLING ALL WOMEN!!!!!!!!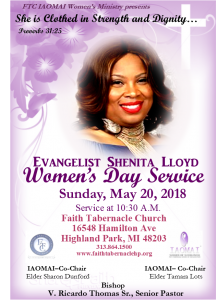 You don't want to miss the amazing women's day service. May 20th we will be blessed with a word from the Evangelist Shenita Lloyd of Rhema International church. Plan to attend this will be a spirit filled service. Come dress to impress in the full armor of the Lord.
IAOMAI Women get ready for the Women's Re-Treat to Maumee Bay! Mark your calendars for August 24-26, 2018 for a time to Relax, Refresh, & Recharge.  Please contact Elder Tamara Lots or Elder Sharon Dunford to make all payments.