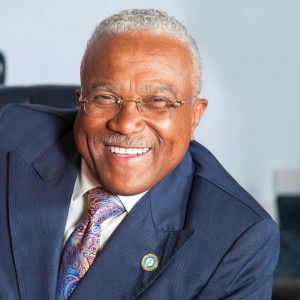 Victor Ricardo Thomas Sr. was born July 13, 1952 to Bishop Morris Thomas Sr. and Pastor Betty L. Thomas, both whom are present with the Lord, in Detroit, Michigan. He has two brothers and one sister; Morris Thomas, Jr., Anthony P. Thomas Sr. and Lisa M. (Dr. Robyn) Haithcock.
He is the father of five children; Tamara M. Lots, Victor Ricardo Thomas Jr., Dr. Morris H. R. Thomas, Steven D. Thomas and Dominique A. (David) Humphrey. He also has six very loving grandchildren, Kourtney and KyLee Lots, David III, Daniel, Dylan and Dominic Humphrey.
V. Ricardo Thomas graduated from Highland Park High School as the Senior Class President and Captain of the Football Team. He has attended Oakland University and Wayne State University. He has completed four years of study in Biblical Counseling and received certification from Christian Research and Development of Philadelphia, Pennsylvania. He now instructs Biblical Counseling to pastors, church members, and professionals. He completed the Pastors of Excellence Program at Ashland Theological Seminary (2004-2005). He is currently a student at Wayne State University.
Soon after Faith Tabernacle Church was founded in 1966, Bishop Morris Thomas Sr. laid hands on him in a prophetic prayer and told him of the calling that was on his life. V. Ricardo Thomas was not ready to accept the calling at that time and like the Prodigal Son; was drawn to the street life. This lifestyle held him captive for over 25 years. It took him to the earthly pits of a hellish existence. Yet God took him from that PIT to the PULPIT. In 1991 he "Came to himself" and accepted the call on his life and began training for the ministry. Bishop Michael Jones adopted him as his son in ministry and has been a father figure and mentor ever since. He was ordained an Elder and appointed Administrative Pastor of Faith Tabernacle Church of Highland Park in 1996; and later in-stalled as the Senior Pastor in 2000.
V. Ricardo Thomas was designated to the office of Bishop in October 2014 by the late Bishop Steven J. Bennett, Founder of Christ Harvest Fellowship of Churches. Following his wishes, the presiding prelate Bishop Adolphus Cast has followed through in appointing this apostolic mantle upon Him.
V. Ricardo Thomas is the author of the powerful, gripping autobiography entitled, The Prodigal Son, it is in its 4th printing as a "revised edition".His life is an example to all of the redemptive, reconciliatory and restorative work of Jesus Christ. He is sought out to spread the gospel at conventions, seminars and conferences locally, nationally and internationally through Prodigal Son Ministries of which he is the founder and Executive Director. He has ministered in conferences, churches, schools, and prisons in South Africa, Jamaica, Israel, Dominican Republic, Canada and any country that he travels to, even on vacations.
V. Ricardo Thomas is a founding member and Chairman of the Highland Park Homeowners Collaborative, Organizing Board Member and Past Vice-President of the Highland Park Business Association, Board member of the Development Corporation of Wayne County (EDGE), past Vice- President of the Highland Park Planning and Zoning Commission and is a former appointee of the Governor's Leadership Steering Committee for Highland Park. He serves with these organizations to bring about a difference, have a better quality of life and so that God is glorified as we all have a better place to live, worship, work and do business.
TO GOD BE THE GLORY